Not So Hot Sweater - Part 2
Topic: August, 2008
I checked the pattern, the layout calls for the stretch to go down the sleeve not around.... don't know why it would call for that... doesn't make sense. Then I double checked the seams, there are 9 panels and 9 seams, didn't see those in the line drawing.... I think that the line drawing on patterns should represent the garment exactly! Very disappointing.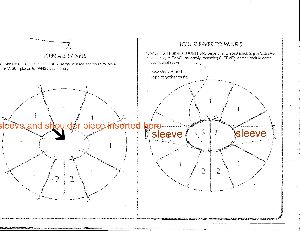 this is the instructions, you can see the 9 panels which makes up the collar and body of the sweater, then the sleeves/shoulders are sewn into the center.
I hesitate to do a pattern review of this because I have nothing nice to say, but maybe I'm missing something, and one of those members over there can prove me wrong!
Posted by sue at 9:14 AM PDT