What's on the sewing radar
here's what is on the cutting table Vogue 8491, a dress and jacket. I was just going to make the jacket, but I also have enough to make the dress. It's a little too "dressed up" for what I would wear to work, but oh so cute, I couldn't resist. and the dress would look great as a jumper. The fabric is a nice wool silk. http://www.voguepatterns.com/item/V8491.htm?search=8491&page=1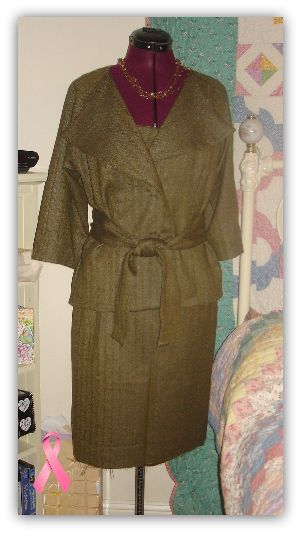 Next is Vogue 2923 a DKNY jacket and top. The jacket fabric, is the print and is a cotton with lycra, the solid is a soft mystery, maybe silk, and these match perfectly. http://www.voguepatterns.com/item/V2923.htm?search=dkny&page=2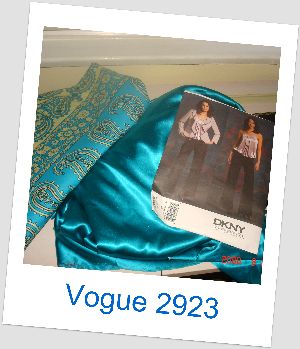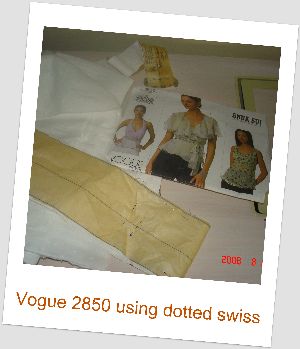 Next is Vogue 2850, the center illustration from dotted swiss I purchased from Vogue fabrics earlier this summer. I have made this version before out of an onionskin (mesh knit) and it came out nice. This one may be the first on my list. I was thinking of rolled edges, using serger for this....
http://www.voguepatterns.com/item/V2850.htm?search=sui&page=1
Lastly is pants from the pattern from the pants fitting class I took this summer. (that is a tongue twister) This fabric is a nice heather grey double knit (not your mama's double knit... I hope).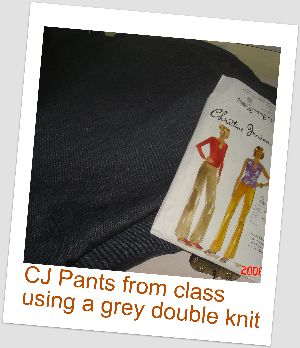 But, before all this gets sewn, I'm heading up to the mountains to visit my parents for a day or 2. Adios
Posted by sue at 11:15 AM PDT
Updated: Saturday, August 30, 2008 8:05 AM PDT