Shine a Light
It was saturday morning, I was getting ready to head up to my parents, but... I really, really had to sew something, knowing that I'd have 1 or 2 days ON A WEEKEND of a sewing drought, so, I whipped up a Hot Pattern Weekender Sunshine Top http://www.hotpatternsstore.com/Merchant2/merchant.mvc?Screen=PROD&Store_Code=HP&Product_Code=wk_st&Category_Code=to this top, by the way, is a winner. I've made it before and love the feminine fit and it goes together nicely. the only adjustment I need to do is make the sleeves wider for my larger than normal? upper arms. I used a beautiful rayon lycra.... oh and it drapes so nicely. And goes nicely with my blue eyes.
well... I made the mistake of taking it up to my mom's, asked her to try it on (for fit mind you)... thinking, ah, it won't fit her, it will be too low, etc., she tried it on and liked it! She took it!
But doesn't it look so cute on her...... and it goes nicely with her eyes too!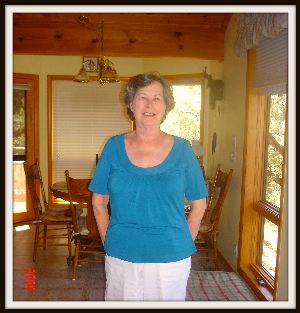 oh, and the title of this entry, "Shine a Light" is what I was watching while sewing this top.... rockumentaries are the best for sewing... you get a little gossip, a little rock and roll, and I get to dance while I iron!
Shine a Light was good, and I'll be watching it again before I put it into the Netflix return envelope ... Martin Scorsese chronicles the career of the Roling Stones with footage from the band's "A Bigger Bang" tour..... revealing interviews, behind the scenes clips and live performances.....AND....here's some Sue gossip: "Brown Sugar" was the first song I danced to at a "dance"... it was 8th grade, junior high, cafeteria, I was the dork in the corner, I went alone (you know, come to think of it, I still go alone to most places), and this was the first and only song I danced to..... maybe it was because I made my clothes, but whatever... Brown Sugar is forever etched in my brain as that moment.
I said yeah, I said yeah, I said yeah, yeah!
Posted by sue at 10:02 PM PDT
Updated: Sunday, August 31, 2008 10:21 PM PDT