Vogue 1160... My new Favorite Dress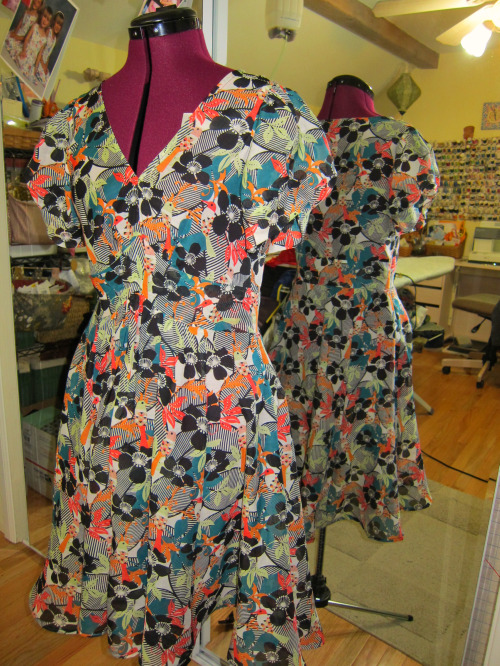 Pattern Description: MISSES' DRESS AND SLIP: Dress, above mid-knee (front), mid-knee (back), has fitted bodice, front pleats, midriff, flared skirt with side front and side back seams, side zipper and short, two-piece sleeves with mock bands. Bias, flared, pullover slip, above mid-knee, has shoulder straps, front darts and raised waist.

Pattern Sizing: Misses 6-20. I made my usual 12 and it was perfect in length, bust, and sleeves. (generally the bust is too loose and the sleeves too tight.)

Were the instructions easy to follow? The only confusing part was the sleeves. The pattern did not have a good visual of what was going on and I had a heck of a time visualizing it. Basically, there's a sleeve band that twists. The sleeve is 2 parts: front and back, and the band on the front is sewn to the band on the back and vis versa. It doesn't show it on the line drawing on the pattern and the instructions are not very clear. But its a really really cute technique and I really really like the sleeves.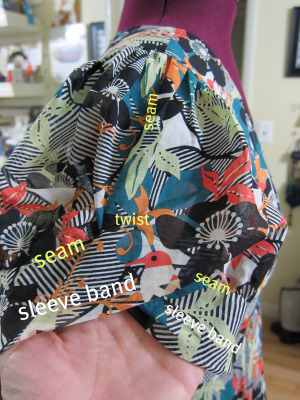 What did you particularly like or dislike about the pattern? I'm really into dresses this year and I have always liked the DKNY pattern styles. I liked the fun, flirty look of this dress.

Fabric Used: I purchased this Anna Sui silk and cotton semi sheer fabric at the ASG convention last year, about 2.5 yards, then when I got home I saw the same fabric at Fabric Mart for half the price, so I bought 2.5 more yards. It's a really soft, finely woven fabric.
I need to make the slip in the pattern to wear under. I have some white batiste that I will dye black. Update: I did dye some of the batiste black, but it didn't come out black enough! argh... it's more plum. So, I can either re-dye, buy a slip, or buy some black fabric. I really like batiste for summer slips.
Pattern alterations or any design changes you made: This fabric was only 45" wide and the dress side panels are wider than that, BUT, I didn't want to refold and shift my fabric around for a few inches in width, so I narrowed the skirt width a few inches... I don't feel as if this ruined the look. I also raised the neckline "V" about 2" because it was pretty low. Oh, and since I hate fiddling with pleats, I just gather the lower bodice from but where it called for pleats.

Would you sew it again? Would you recommend it to others? Yes. This is a really cute dress. I can't wait for it to warm up a bit, and to get some color in my legs so I can wear it! (I'm heading to Hawaii for a vacation in a few weeks, so it won't be long!)

Conclusion: Like dresses? Need a dress? This pattern is really really cute!

Posted by sue at 2:05 PM PDT
Updated: Wednesday, March 17, 2010 2:15 PM PDT