New Look 6557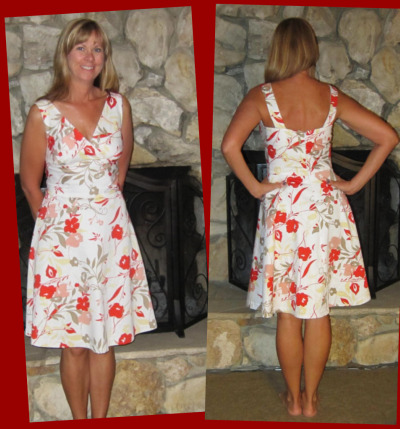 Another dress.... this is one of my favorite patterns. It's quick and easy and makes a great summer dress that can be worn to work with a sweater, a party, a picnic, wherever! I wore this Saturday night to a surprise 50th Birthday Party at a neighbors.
This is a buck a yard cotton fabric which I purchased during my last trip to FIDM. That trip I picked up some beautiful cottons... all for dresses! I'm slowy wadding through the pile and hope to have a few dozen new dresses for this summer!
Here's my review:
Pattern Description: Misses summer dress with back zip, bodice and shoulder variations. Optional waist tie.

Pattern Sizing: Misses 8-18 I made my standard size 12 and took in the CB seam about 1" on each side for a snug fit.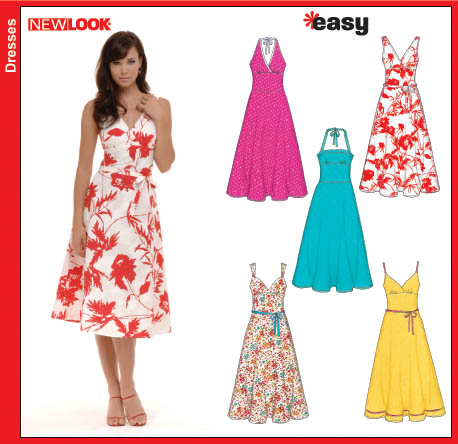 Did it look like the photo/drawing on the pattern envelope once you were done sewing with it? yes. My fabric is even pretty close although that wasn't my intention.

What did you particularly like or dislike about the pattern? I think New Look has some nice, easy basic summer dresses and their patterns are reasonably priceed. I generally look to New Look first for anything basic. I can wear this to an evening party, summer picnic, or with a cropped jacket or sweater to work.

Fabric Used: 100% cotton floral print that I picked up for a buck a yard. I lined the entire dress with a pimatex cotton I purchased online from Dharma Trading by the bolt. I love to line my summer dresses with this stuff! It's a great fabric to have around as it comes in handy on all sorts of projects and washes and wears nicely.

Pattern alterations or any design changes you made: Some simple fitting because I wanted this dress to be snug. I also lined the entire dress which basically just consisted of cutting out each piece twice (1 with fashion fabric and 1 with pima cotton) and sewing them right sides together and treating as 1, except for the skirt which is separate inside except attached at the waist. I find that if I sew the skirt separately it usually guarantees that there will be no tugging or puckering on the seams if one of the fabric later shrinks more than the other.
I have some other dresses (made from my $1 yard fabrics) I sewed up these last few weeks, that I will post here this week!
Posted by sue at 9:07 AM PDT
Updated: Tuesday, May 18, 2010 11:19 AM PDT