T-Shirts
Can you have too many t-shirts? I don't think so. They sew up really quick too!
I made 3 this weekend, all from fabric I either purchased or received on my recent NYC/Montreal vacation.
The first tee is Christine Jonson 426 Shirred princess wrap. I've sewn this pattern probably 20+ times and love each tee made! This is fabric that I purchased at Madeleine Soie in Montreal. I loved the faces.
The middle tee is from fabric from the "grab" table at the PR Weekend. I admired this fabric a while back, but it was bought up really quickly and I never got any... but I did now. I made Simplicity 4076 another TNT that I've made a zillion times. The difference between the CJ and the Simplicity wraps is that CJ's pattern has princess seams and the neckline doesn't droop at much since the wrap doesn't go all the way to the sides. The tee on the right is Jalie 2921 a "new" favorite. This white fabric is a bit thinner then I'd like so I think with the remaining white rayon knit I will double it and see how that works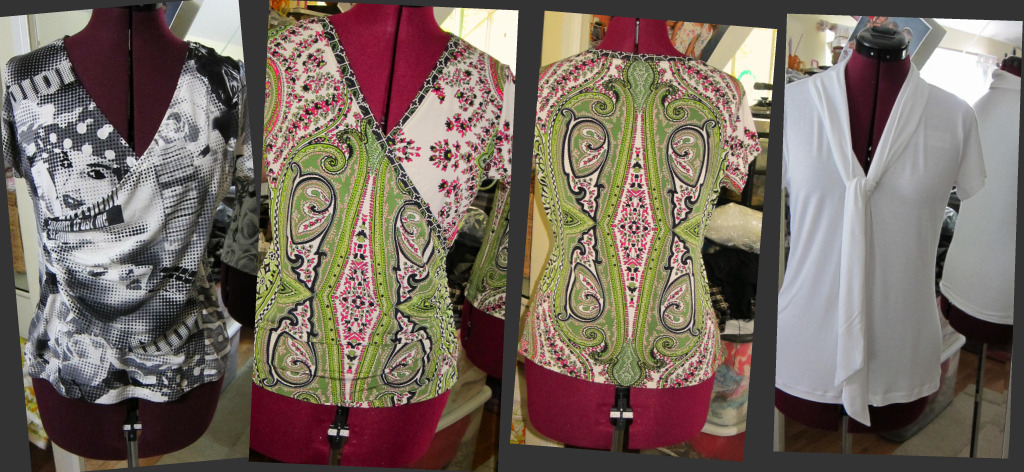 Posted by sue at 11:08 AM PDT
Updated: Monday, June 28, 2010 11:18 AM PDT