On Your Mark, Get Set.....
Topic: June, 2008
I got my weekend sewing all cut out and ready to GO. Last night I had a cutting marathon. A skirt, jacket, tee shirt, and dress. And I still got a dress and jacket cut out from my last cutting frenzy. I plan on sewing all weekend.
This is what is in the pile
http://www.silhouettepatterns.com/2850.htm
it's the skirt on the envelope I will make from a nice off white linen. This is 1 pattern piece cut 18x with the edges/seams on the right side serged and visible. I got a nice poly rayon thread for the serging.
http://www.silhouettepatterns.com/1825.htm
from the same off white linen. The hems are rolled with the same rayon poly thread and it is unlined. The collar is 1 piece, 1 layer. I need to find 2 interesting buttons for the closure. I will make a cropped version. Not sure if I will wear it with the skirt, but we'll see.
these pattern photos do not do the garments justice. I saw both of these made up at the recent Peggy Sagers event and both are really really cute.
The dress is Simplicuty 3775. I've made this before and like the way it gives a waist. I've lost 10 pounds, and want to show it off!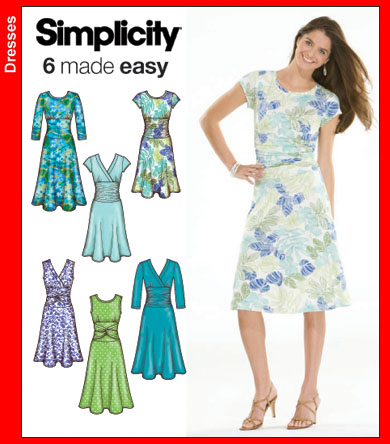 The fabric is a knit rayon with a Paris theme which I purchased from Christine Jonson's website.
The tee shirt is for DH. I got some powerdry wicking fabric and will make him a tee with a Jalie pattern. I want to see if I can make him a teeshirt that is cooler and nicer under his mandatory lead vest in the California sun. Whenever the weather gets hot and I start whining about the heat, I think, at least I'm not wearing a wool uniform and lead vest !
finally, I'm a reality show fanatic, and lately been watching The Bachelorette.. I found this fun blog that recaps... if your a Bachelorette fan, check it out
http://www.ihategreenbeans.com/category/bachelor-recap/
Posted by sue at 9:24 AM PDT
Updated: Tuesday, August 12, 2008 4:38 PM PDT