Help... I'm sewing dresses and can't stop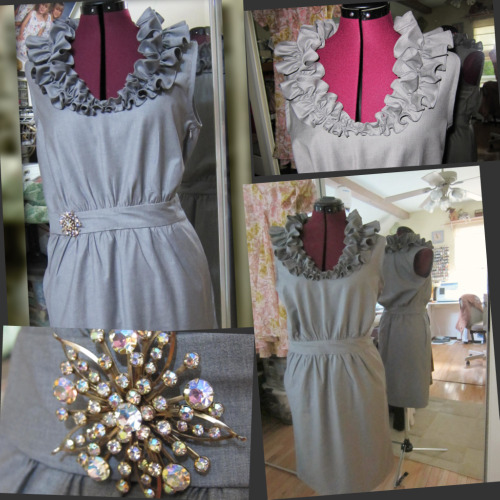 Here's another dress accented with one of my Grandma's brooches. During a recent visit to my mom and dad's house, I was rummaging through my mom's jewelry box (she's got the best costume jewelry collection and as a kid I was always sneaking into her dresser to drool over her jewelry!) I recently "found" this pin and mentioned how much I liked it... well, she gave me the pin along with a box full of my grandma and great grandma's brooches! Score! I "borrowed" the pin at the waist idea from another sewing friend who made this dress "Slapdash Sewist" and it really adds to this dress. I need a cocktail dress for an upcoming sewing get together and I think this dress and pin will work out nicely. If I omit the pin and add a cute pair of casual sandals, I think this dress will also work for an upcoming casual party!
This dress if Simplicity 2497 a Cynthia Rowley design and it is so cute. http://www.simplicity.com/p-3055-misses-dresses.aspx
I may make the other version.
This past saturday my friend Kathi and I went to Little Tokyo and checked out the textile exhibit at the Japanese American National Museum... it was a nice museum with some interesting exhibits. http://www.janm.org/exhibits/texturedlives/
Before heading to the museum we met at FIDM where we rummaged through the $1 yard fabric "closet" and I came home with some really nice lightweight cotton prints... for... yep, dresses!
Posted by sue at 10:18 AM PDT
Updated: Monday, April 26, 2010 1:41 PM PDT