Topic: August, 2008
I ended up taking friday off, again! Woo-hoo, I love long weekends. However, my sister was gone this weekend along with her kids and I got BORED! I didn't realize how much those kids annoying me actually entertained me! She's got a great beach house and is there for 2 weeks! Yikes!
I did sew, however. I finished a sheath dress and jacket ... this pattern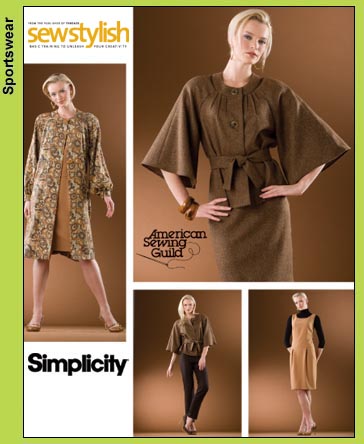 i just need to add buttons. I had some Guatamalen fabric and some raw silk in my stash that I thought would work well. The dress has a nice drop waist and the jacket, well, I'm not sure about the jacket. But it is summer and this is more of a Fall look, so I'm going to put the outfit into my closet and let it age a bit.
I'll post a review over at PatternReview here http://sewing.patternreview.com/cgi-bin/readreview.pl?readreview=1&reviewnum=31180
Posted by sue at 10:57 AM PDT
Updated: Tuesday, August 12, 2008 4:36 PM PDT