Sure as @*($ don't make 'em like the used to
So, I was stitching along on my recently repaired $7K sewing machine and clunk, crack, bang, it broke AGAIN. - the bobbin assembly case. The machine spends half its time in the shop getting fixed! And what really irritates me is the solution is "maybe it's time to upgrade!".... Yea, I want to spend $9K to upgrade a $7K machine that I've only had about 5 years (don't get me started on that!).
After contemplating tossing it out the second story window and imagining the great pleasure I would have watching it shatter into a zillion little pieces as it hit the ground, I packed it up and put it in my car for ANOTHER lunch hour trip to the dealer!
In the meantime, I took out my trusty featherweight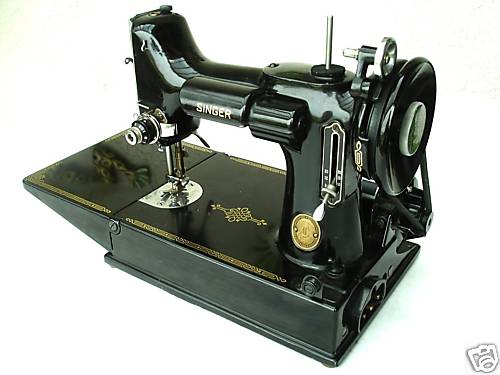 and finished my project. This featherweight is at leat 50 years old, and stitches like a dream! A little oil every so often, a new needle, and some times a bulb, and it's as good as new. If this machine did a zig zag, I'd be in heaven. I have a buttonholer that does way better buttonholes than my top of the line piece of crap.....
As for the project I finished, it didn't turn out so well...... I'll post THAT tomorrow...
Posted by sue at 10:31 AM PDT