4 Bowl Weekend
Topic: August, 2008
This weekend, we have 4 Hollywood Bowl events! Yikes! That will not leave enough sewing time, so I'll need to ditch 1 or 2. Last night was the first Bowl.... Etta James, Solomon Burke, and Paolo Nutini (each separate performances). It was a fun night, I'm really enjoying the wednesday night jazz series so much better then the weekend "spectaculars". I also thouroughly enjoyed Paolo Nutini and you can read more about him here http://www.hollywoodbowl.com/music/artist_detail.cfm?id=3461
Solomon Burke was an interesting guy... he sat the entire time in a large throne and wore a really glittery suit and had a guy on hand to occasionally wipe his brow, then later in the show passed out roses to the ladies in the audience. Etta was sassy as ever and looks like she lost a lot of weight, I don't recall her being slim. Her voice is still strong.

Friday is Gypsy Kings, this is DH's pick and I can tolerate them for about 30 mins, then I'm done, so I'm hoping he can find a friend to go with him. Saturday is Mambo Night... should be lively, and Sunday is the JVC Jazz Festival with James Ingram, Boney James, David Sanborn, Ledisi and Eric Darius.
Now for sewing, the minute I saw this...... I knew I had to make it!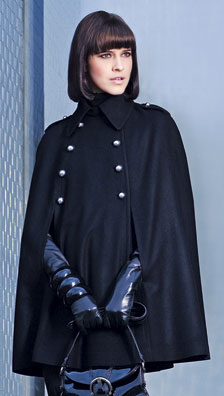 It is Burda WOF, August 2008 #101. I have the magazine, now I just need to find some fabric. It looks so "Agent 99"!
I'm thinking a nice brown with some rustic type buttons. Something to take the conservative-ness away. Maybe a fun lining... it's always fun to have a surprise inside your outfit

Posted by sue at 1:44 PM PDT
Updated: Thursday, August 14, 2008 9:53 AM PDT